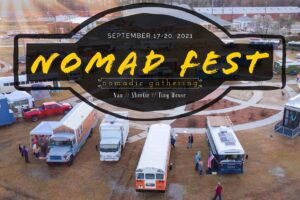 NOMADfest Nomadic Gathering 2021
September 17-20, 2021
Sparta, GA USA (Exact address provided to registered participants.)
CLICK HERE to Register Your Rig/Home
NOMADfest will be the 23rd festival organized by John & Fin Kernohan (United Tiny House Association).
Unlike past United Tiny House Association (UTHA) festivals, NOMADfest is a private gathering (not open to the general public) for the owners of bus & van conversions, skoolies, eclectic DIY builds, tiny houses, and any other structures (not tents) people live in while traveling.