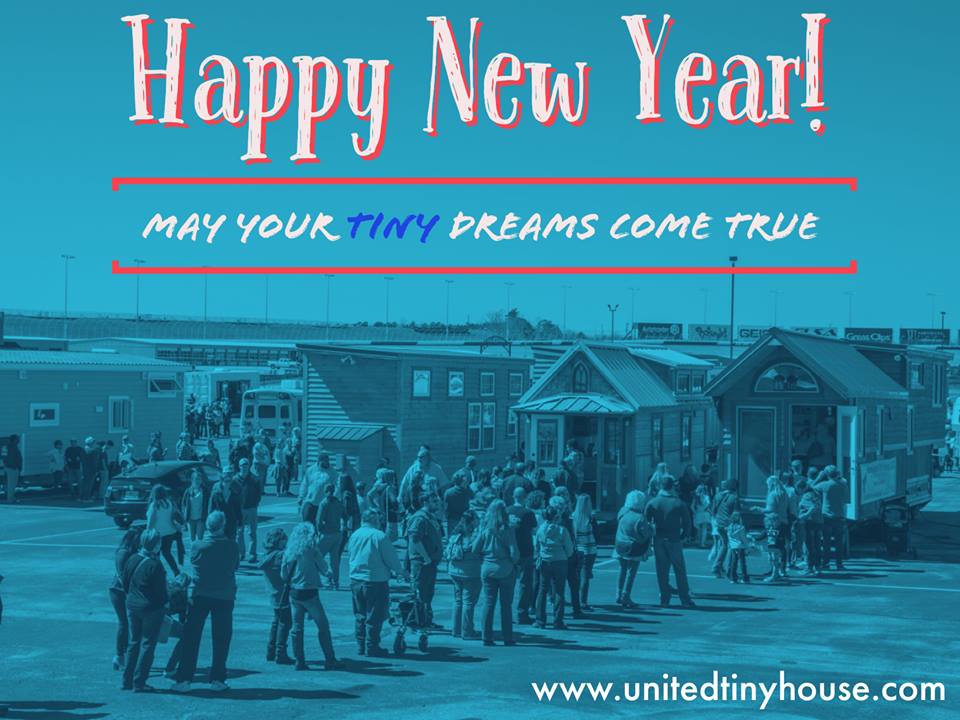 01 Jan

Thanking 2018 – Welcoming 2019
Happy Tiny New Year!
GREETINGS & HAPPY HOLIDAYS TO ALL OUR FAMILY, FRIENDS & SUPPORTERS!
Fin and I would like to take this moment and thank EVERYONE for such a wonderful 2018 – and hope each and all of you are having the most wonderful of Holiday Seasons!
As we look back over the past 12 months, we are amazed at how much has been accomplished – not only in our personal lives and with our organization, the United Tiny House Association (UTHA) and it's for-charity tiny house festivals, but also within the tiny house community at large.
Sometimes it is hard to imagine, and at times we are a bit shell-shocked, that we started our tiny house journey about 8 years ago aboard our tiny narrow boat in the UK and started living in our 304sqft Beloved Cabin just over 7 short years ago.
Today, as we sit here with a fire crackling in the stove, we find ourselves reminiscing over all our adventures, travels, lessons learned, frustrations & failures, and accomplishments during our tiny life.
And most importantly, we are thinking of all the people who have stood by us and supported us along the way.  Without you all, none of our accomplishments may have ever occurred.  For this, we thank YOU ALL.
In 2018, the United Tiny House Association (UTHA) organized five tiny house events, for a total of eleven for-charity tiny house festivals in less than 3 years; including two more World Record tiny house festivals (the 90+ tiny structure 3rd Annual Georgia Tiny Festival and the 90+ tiny structure 3rd Annual Florida Tiny House Festival).
Additionally, to date, the UTHA has donated, given away and contributed over $500K (Over a Half Million Dollars) to more than 70 different charities, non-profits, charities, and great causes during its eleven-event history since March 2016.
And why do we share all this? Because without so many thousands of people, and a smaller number of core individuals, none of this would have ever been possible.  So again, Fin and I thank you all.
And now, we look towards 2019 – a New and even BIGGER Year!
 ~ Our 2019 For-Charity Tiny House Festival Calendar kicks off on March 1-3, 2019, with the 4th Annual Georgia Tiny House Festival.
~ In addition to Georgia (4th Annual), we are also currently planning on events in California, Florida (4th Annual), Louisiana (2nd Annual), North Carolina, and Tennessee (2nd TN event) for 2019.
~ The return of TINY HOUSES across AMERICA… Two tiny house festivals being held on opposite coasts of our Country on the same weekend!
~ Once again, UTHA's Tiny House Scholarship will be made available for a college-bound graduating high school senior for the 2018/2019 school year.
~ And off course, UTHA will continue with its advocacy and support of both the tiny house movement and in its philanthropy activities.
In closing, HAPPY NEW YEAR to You All – and THANK YOU for sharing your 2018 with us.
May You ALL have a most blessed and prosperous 2019, and please remember…
"Do Something BIG in Your World, By Simply Doing Something Tiny."
John Kernohan, Chairman & Founder
United Tiny House Association